Dutch prime minister Rutte 'worried' about state of finances in St. Maarten
July 19 2013
FRIDAY, 19 JULY 2013
~ Urges government to establish budget ~
PHILIPSBURG–Dutch Prime Minister Mark Rutte conveyed his and The Hague's "deep worries" about the state of finances in St. Maarten to St. Maarten's Council of Ministers on Thursday.
Rutte, who is on his first official visit to St. Maarten as Prime Minister, reported on his meeting with the six ministers at a press conference held jointly with St. Maarten Prime Minister Sarah Wescot-Williams late Thursday. He said parties had had a lengthy discussion on concerns the Dutch have about financial and integrity issues in St. Maarten.
Rutte "made it clear" to the Council, that "it is extremely important" for St. Maarten to establish its 2013 budget "as soon as possible." Every effort is now being made to have this done, he added. "I think that's extremely important," he said.
Lengthy discussions were held about integrity issues in the country. He informed the Council that Governor Eugene Holiday had been requested to conduct an independent inquiry into the issue of integrity here (see related story).
Rutte visited with a delegation from the Dutch business community. His meetings ran behind schedule, as his flight had been delayed.
Wescot-Williams told reporters Rutte's visit had provided "a good opportunity" for the various ministers to provide him with an overview of their respective ministries and to highlight their plans for moving forward.
She said Rutte also had been quite interested in the matters St. Maarten had highlighted as its priorities, such as the finances of government and issues related to the Justice Ministry. She said it had been important to apprise the Dutch Prime Minister of developments in St. Maarten and for him to have a first-hand view of issues "playing" in the country.
She also touched on the trade possibilities that were a focus of Rutte's visit. Wescot-Williams said a lot could be achieved in the area of trade relations and investment opportunities between St. Maarten and the Netherlands via the visiting business delegates.
"We believe that this is a first step in a plan and in a development that we would like to see continue in the future," she told reporters. "We do recognise that this is also another part of the trip by the Prime Minister."
A lot of discussions and negotiations already have taken place regarding the new constitutional setup of the Kingdom and it was not St. Maarten's plan to discuss new constitutional constructions. "We are where we are today and I think in the case of St. Maarten, it's about the socio-economic development of [the country – Ed.]," she noted.
Wescot-Williams looks forward to the strengthening of the economic relationship between St. Maarten and The Netherlands. Similar sentiments were expressed by Rutte, who said it was clear that St. Maarten was now a country that stood on its own feet within the Kingdom.
He said now was the time to explore what could be done to establish much stronger trade relations, particularly given that the six islands in the Caribbean part of the Kingdom have a close relationship with The Netherlands. He said all parties could work closely together and offer opportunities for opening gateways to Central and Latin America, which he sees as "very positive."
Asked by another member of the press about the possibilities of debt relief Rutte said, "The books are closed."
Minister of Public Housing, Environment, Spatial Planning and Infrastructure VROMI Maurice Lake spoke about his plans for a solid waste management facility during a visit to the Philipsburg landfill on Thursday afternoon. Lake informed the Dutch delegation that he would like to see the new facility up and running by mid-2015 and said he believed such a date was feasible if all parties worked towards it.
Edelmiro Jansen of the Ministry VROMI Department of Infrastructure Management explained the history behind the landfill and Ministry VROMI Acting Secretary-General Louis Brown provided information about plans for a solid waste management facility.
Bron: The Daily Herald, St. Maarten
FRIDAY, 19 JULY 2013
PHILIPSBURG–Dutch Prime Minister Mark Rutte and Minister for Kingdom Affairs Ronald Plasterk have requested that Governor Eugene Holiday conduct an independent inquiry on the issue of integrity in St. Maarten.
Rutte informed St. Maarten's Council of Ministers of this decision during a meeting on Thursday.
The Dutch Prime Minister, who was in St. Maarten on his first official visit as Prime Minister, told reporters at a press conference on Thursday that he was happy that the St. Maarten government had decided to request that Transparency International conduct an in-depth review on the same issues.
He also highlighted government's decision to focus on trafficking in persons based on a United States State Department report on this matter and to take action on all its recommendations without any delay, adding that this would convey "a lot of confidence."
Asked why emphasis had been placed on integrity during the meeting with the Council, Rutte mentioned all that had been seen on "YouTube," obviously referring to the Bada Bing video in which independent Member of Parliament (MP) Patrick Illidge was seen collecting what is believed to be money from strip club owner Jaap van den Heuvel.
Rutte also alluded to "issues related" to former Justice Minister Roland Duncan. He said questions had been raised about these issues that had led him and Plasterk to request that Holiday conduct an independent inquiry on the issue of integrity on behalf of the Kingdom Council of Ministers.
Rutte also alluded to the new Ministers appointed to the portfolios of Finance (Martin Hassink) and Justice (Dennis Richardson). He said the two ministers "command a lot of respect." The combination of the efforts of the government of St. Maarten and the fact that the new ministers have been installed "also provides a positive outlook." He said the efforts being made were important "to establish a new start in terms of all the questions on integrity and state of play in St. Maarten."
St. Maarten Prime Minister Sarah Wescot-Williams said St. Maarten was doing its utmost regarding integrity, which government considers a priority. There is an integrity programme running in government and legislation is being worked on to institute an integrity bureau.
This, she said, is being done in consultation and collaboration with the Integrity Bureau of Amsterdam, which has provided workshops to strengthen St. Maarten's capacity to manage its own integrity programme.
Government also has invited Transparency International to conduct a national integrity assessment for St. Maarten. Wescot-Williams said this had not been done out of pressure or due to questions, but because "there is so much talk about integrity and we are saying this is what we are doing."
Bron: The Daily Herald, St. Maarten
Rutte heeft positieve verwachtingen van nieuwe ministers St. Maarten
19 juli 2013
PHILIPSBURG – Minister-president Mark Rutte heeft "positieve verwachtingen" van de nieuwe ministers van financiën en justitie in Sint Maarten, Maarten Hassink en Dennis Richardson. Rutte sprak op de eerste dag van zijn werkbezoek aan Sint Maarten met onder meer gouverneur Eugène Holiday, minister-president Sarah Wescot-Williams, de Raad van Ministers en parlementsvoorzitter Gracita Arrindell.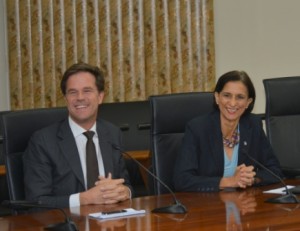 Minister-presidenten Mark Rutte en Sarah Wescot-Williams tijdens de persconferentie in Philipsburg op donderdag. Foto Today / Milton Pieters
"We hebben uitvoerig gesproken over mijn zorgen over de overheidsfinanciën en justitie," zei Rutte tijdens een persconferentie die meer dan twee uur later dan gepland begon op donderdagmiddag. Het programma werd in de war gegooid doordat de Insel Air vlucht van Curaçao naar St. Maarten anderhalf uur vertraging opliep.
"Het is belangrijk dat de begroting voor 2013 zo snel mogelijk wordt vastgesteld en ik begrijp dat alles in het werk wordt gesteld om dit voor elkaar te krijgen."
Rutte was zeer te spreken over het initiatief van Wescot-Williams om Transparency International te benaderen voor een integriteitsscan. Ook sprak hij positief over het voornemen van de regering om actie te ondernemen op iedere aanbeveling uit het Trafficking in Persons rapport van het Amerikaanse State Department.
Rutte zei ook dat hij geen woord meer wil horen over staatsrechtelijke hervormingen. "Sint Maarten is nu een land dat op eigen benen staat. We moeten ons concentreren op economische ontwikkeling," zei hij.
De Nederlandse handelsdelegatie onder leiding van MKB-voorzitter Hans Biesheuvel bezocht verschillende bedrijven op het eiland en bracht ook een bezoek aan de vuilnisbelt op Pond Island. Minister Lake wil tegen 2016 klaar zijn met de bouw van een energieopwekkende vuilverbrandingsinstallatie die op termijn de huidige vuilnisbelt ook moet afbouwen.
De Nederlandse minister president herhaalde wat zijn Minister van Koninkrijksrelaties Ronald Plasterk bij zijn bezoek aan Sint Maarten ook al verwoordde: het boek van de schuldsanering is definitief gesloten.
Na een bezoek aan Statia en Saba op vrijdag keert het Nederlandse gezelschap op zaterdag terug naar Sint Maarten. Dan zal Rutte achterstandsbuurten in Dutch Quarter bezoeken, gevolgd door een bezoek aan de luchthaven.
Bron: NTR Caribisch Netwerk